EUROFINS GENOMA: a rich heritage combining technologies and people, a model for quality, professional expertise and competencies.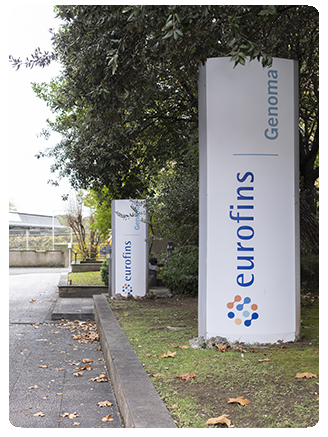 EUROFINS GENOMA
is a highly specialised diagnostic centre in Italy, renowned for its contribution to the advancement of molecular diagnostics. The laboratory is also renowned internationally thanks to its collaboration with scientific networks and prestigious research projects.
EUROFINS GENOMA
, incorporated in
1997
, is the point of reference for high-tech examinations. It is mainly a "service" centre for highly specialised prenatal and post-natal
genetic
,
cytogenetic
and
molecular examinations
.
EUROFINS GENOMA
is considered as one of the most advanced
molecular diagnostics
centre in Europe and its head offices are in
Rome
and
Milan
. The laboratories are in a modern, high-tech building and cover a surface of more than 7
,000 sqm
in total. The centre uses state-of-the-art instruments and technologies and works at high quality levels.
EUROFINS GENOMA
professionals have been working in genetics for
more than 20 years
. A team of more than 100 professionals, including geneticists, molecular biologists, gynaecologists, researches and laboratory technicians work together operating in the field of cytogenetics and molecular diagnostics for clinical applications and research inside a centre with very high technical and scientific standards. A
sales force of 40 people
, covering the 20 Italian regions, completes the team of professionals.
EUROFINS GENOMA
works
all over Italy
and abroad in
Europe
, the
United States
and the
Middle East
, providing specialised diagnostic support for public and private health clinics, examination laboratories, health centres, hospitals, private clinics, general outpatients' clinics, medically assisted procreation centres and physicians specialising in different fields.
Our laboratories receive biological samples from more than
5,000 laboratories,
hospitals
and
physicians
every day. The integrated approach of the Centre is aimed at performing extremely high volumes of examinations; more than
150,000 genetic tests
, constantly increasing, are carried out every year.
One of the features of the Group is a well-organised network of services, one of the most comprehensive in Italy and abroad, allowing the centre to offer its patients and their physicians innovative diagnostic solutions for any clinical need. With a list of more than
1,500 genetic tests
available directly in our laboratories and divided into
20 areas of application
, GENOMA is able to meet increasingly specialised requests in cytogenetics and molecular diagnostics, providing its customers with a highly specialised, precise, effective and rapid service.
EUROFINS GENOMA
is a laboratory with one of the longest, wide-ranging experience in Europe in
prenatal diagnostics
. Thanks to this heritage, the Group can offer expectant mothers and their physicians state-of-the art technologies for foetal chromosome and genetic diseases diagnostics.
Quality and diversification of our examinations, efficiency and reliability of our services, together with a constant drive to invest in innovative, high-tech sectors, made
EUROFINS GENOMA
a leader in the genetic diagnostics sector, a rich heritage combining technology and people, a model for quality, professional expertise and competencies that should be imitated and also used in other sectors and a reference for Italian and foreign public and private health clinics.