Our Quality Revolves Around Patients.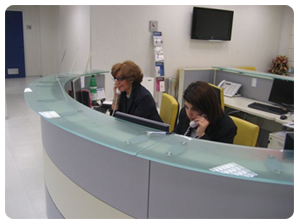 EUROFINS GENOMA 's dedication to customer satisfaction is evident in all aspects of daily operations, from result accuracy to responsive and effective customer service representatives.
Through its commitment to customer delight with the services it provides, EUROFINS GENOMA will further develop a reputation for consistent service excellence that enables the company to benefit from its reputation for technology leadership. In addition, EUROFINS GENOMA has built a dedicated customer delight department focused on direct customer feedback and evaluation.
Through an external client survey, customer feedback is examined using systematic measurements, and used to develop and update customer delight strategies, prioritize service improvements, and focus on specific implementations to ensure that we are meeting the needs of our clients.
EUROFINS GENOMA will build on client feedback and, its already strong, customer-committed culture by deploying the necessary resources to achieve customer delight across every selected customer group and specialty service line. The company will leverage its efforts to secure customer delight through the focused use of technology that directly affects the customer experience - in effect, becoming increasingly customer connected, in areas such as order entry, results reporting, telephone customer support, and patient tracking.
At the same time, EUROFINS GENOMA will proactively pursue the development of capabilities to improve its customer insight and intelligence, supported by the necessary information technology, that will ensure that we keep the customer at the centre of all our activities.