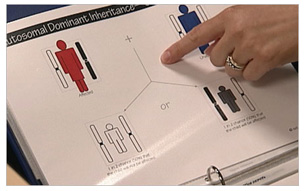 Our commitment to high quality diagnostic testing is accompanied by an equally rigorous dedication to first-class prenatal genetic counselling services.
For that reason, GENOMA employs board certified genetic counsellors who interpret results for physicians and patients.
Our genetic counsellors assess prenatal genetic risks for individual patients, and explain the benefits, risks and limitations of genetic testing.
We also offer an extensive array of medical educational programs to health care professionals regarding current standards of testing and the issues presented by it.
Such consultation can be done by phone or in person. For further questions or to arrange for consultation, please contact our Customer division. (
Dr. Maura Menaglia
,
phone +39 06 8811270
, E-mail:
menaglia@laboratoriogenoma.it
).
Medical and Technical Expertise
Our staff of physicians and scientists has extensive experience. Using both traditional and cutting-edge technologies, they review every case and are also available around the clock to offer brief or extended consultations as needed.
In addition to genetic counseling we provide brochures for patients and clinics, with detailed protocols for sample preparation and case coordination, and other information to aid in your discussion with patients, including the latest data which may not yet be published.