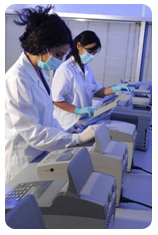 Bringing the Best of Science to Your Work
The advent of genomic and proteomics technologies and the rapidly evolving understanding of the human genome are energizing a sea change in the medical laboratory. The new paradigm for success is about harnessing these revolutionary advances in science and medicine to develop better, more patient specific tools for diagnosis and prognosis of disease.
At the heart and soul of GENOMA is a driving passion to find, develop, and implement these innovative new laboratory tests for better patient care. We believe that the only way to effectively deliver the promise of these emerging technologies is by practicing high science with experts in the field. Our reputation for practicing high science has allowed us to attract a scientific and medical professional staff composed of thought-leaders at the forefront of developing and delivering tomorrow's laboratory technology, today.
At GENOMA, our commitment to high science, practiced by leading scientists and physicians, guarantees our customers' access to the latest developments in diagnostic testing. Offering our clients access to new technology, however, is not enough.
Along with that comes a responsibility to ensure a complete understanding of the new tests and how the information derived from them should be used for better patient care.
The GENOMA commitment to superior customer service ensures our clients will receive the professional consultation required to understand fully how to utilize the latest diagnostic information for better patient care.
At GENOMA, we take high science seriously.
We practice it, we preach it, we teach it -- because at the other end of a specimen in our laboratory is a sick patient who deserves the best that modern laboratory medicine has to offer.