A constantly expanding structure...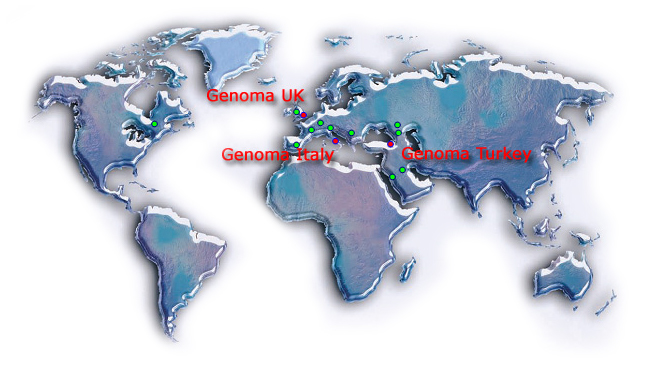 In the last few years, we have increased our interventional capacity and taken on an international dimension with the opening of branches in London and Istanbul, and we have also formed partnerships in France, Saudi Arabia and Greece, as well as establishing a large clientele in Europe, the United States and the Middle East.
From these bases we are expanding our Laboratory "Service" model, which is characterised by advanced technical capabilities, superior performance and high levels of specialisation.
EUROPE



Spain:
Reprogenetics Spain – Barcellona
Rincon - Malaga

France:
ATL – Paris

United Kingdom (UK):
The Bridge Centre - London
University of Sheffield - Sheffield
Care Fertility – Nottingham
UCL – University College of London

Belgium:
LIFE – Leuven (Brussels)
AZ-VUB – Brussels

Slovenia:
Lubiana University – Lubiana

Greece:
Genesis – Athens
Iakentro – Thessaloniki

Portugal:
University of Porto – department of Medical Genetics

ASIA-MIDDLE EAST

Turke

y

:
Memorial Hospital – Istanbul

Saudi Arabia:
Samir Abbass Medical Center – Jeddah – Riyadh

Bahrain
Bahrain Specialist Hospital

United States of America (USA)
Reprogenetics USA - New Jersey – Illinois