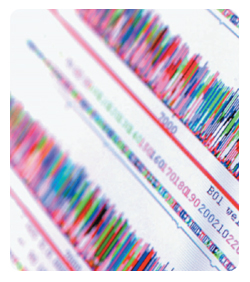 GENOMA 's Departments of Excellence

The Pride of the Company
GENOMA leverages its expertise in innovative clinical testing through its Departments of Excellence. These centres are the pride of the company and lead the industry in the development of cutting-edge test technologies.
Biochemical Genetics
Analysis of specific biochemical markers to assess the risk for chromosome abnormalities and inherited diseases
Cardiovascular Diseases
Evaluation of genetic risk factors predisposing to the development of venous thrombosis, hypertension and other cardiovascular diseases
Cytogenetics
Diagnosis of structural and numerical abnormalities in chromosomes, characterization of sub-microscopic deletions and rearrangements, identification of unknown chromosome material.
Forensic Genetics
A broad range of identity tests used to resolve cases involving major crimes, including theft, rape, kidnapping, murder and the identification of human remains.
Infectious diseases
premier infectious disease testing services with an extensive menu of molecular diagnostics assays for the identification, quantization and genotyping of infectious organisms
Male Infertility
and
Female Infertility
Investigations and management of infertile couples
Microarray-based molecular karyotyping
A new high-resolution screening tool that improves the resolution of the traditional karyotyping by detecting segmented monosomies and trisomes, cryptic imbalances and mosaic changes.
Molecular Genetics
Prenatal and postnatal diagnosis of disorders caused by a single gene
Molecular Oncology (Early Diagnosis)
and
Molecular Oncology (Predictive Tests)
Genetic testing for hereditary cancer and detection of cancer at an early stage
Nutritional genetics
Linking individual genetic variation to principles of good nutrition. Evaluation of variations in genes that influence how the body uses vitamins and micronutrients
Paternity Testing and Parentage
Advanced genetic identification testing to resolve cases of uncertain paternity, maternity and parentage; for child support and custody, to prove kinship to citizens for immigration purposes and for insurance or inheritance rights claims.
Pharmacogenetics
Evaluating how the genetic differences between individuals affect their response to medicines
Preimplantation Genetic Diagnosis (PGD)
A state-of-the-art diagnostic procedure used with in vitro fertilization to test embryos for genetic disorders
Prenatal Diagnosis
Screening for chromosome abnormalities and genetic diseases in foetuses during pregnancy
Preventive Genetic Testing
Genetic Analysis for Preventive Medicine
Recurrent Miscarriage
Investigations and management of couples with multiple pregnancy loss
Reproductive Genetics