One centre: your reference point where you can find a solution to most of your diagnostic needs. Our strength is differentiation in our services..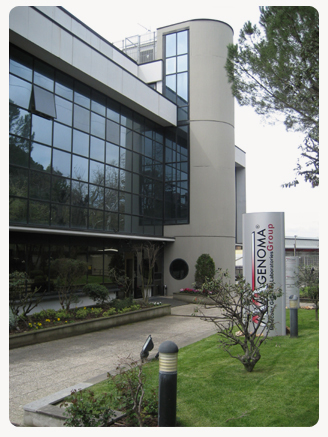 Receiving support from a laboratory service centre means entrusting extremely delicate diagnostics aspects to an external centre.
In
more than 20 years
of work in the health sector,
EUROFINS
GENOMA has generated a very high know-how in genetic, molecular diagnostics and as a service laboratory centre, thus having a rich heritage at an international level.
The integrated organisation of the centre is structured so that high volumes of examinations may be processed.
Our laboratories in modern, high-tech facilities in
Rome
and
Milan
cover
more than 7,000 sqm,
and their layout is aimed at optimising every phase of the process: from delivery of the sample to its analysis and IT management of medical reports.
More than 5,000
Health Clinics and Hospitals in Italy and abroad send biological samples to our laboratories every day. The number of examinations per year has now reached
150,000 genetic tests
and is constantly growing.
Our activity as a Service Centre meets the needs of our interlocutors
12 months
per year,
6 days
a week. We offer services
365 days per year
in emergency diagnostics and pre-implantation genetic diagnosis.
One of the essential features of the daily activity of many laboratories and clinical examination laboratories is the centralisation of the samples sent to third-party service centres.
One of the features of
EUROFINS GENOMA
is a well-organised network of services, one of the most comprehensive in Italy and abroad, allowing the centre to offer its patients and their physicians innovative diagnostic solutions for any clinical need.
With a list of more than
1,500 genetic tests
, divided into
20 areas of application
directly available from our laboratories,
EUROFINS
GENOMA is able to meet increasingly specialised requests in cytogenetics and molecular diagnostics, providing its customers with a highly specialised, precise, effective and rapid service.
The wide and highly diversified list of available genetic test allows our customers to have most of their diagnostic needs met in
two
Cent
ers (Rome and Milan)
.