Our history is the result of a constant drive for growth and development. This is the added-value that made us the main private diagnostics laboratory in Italy.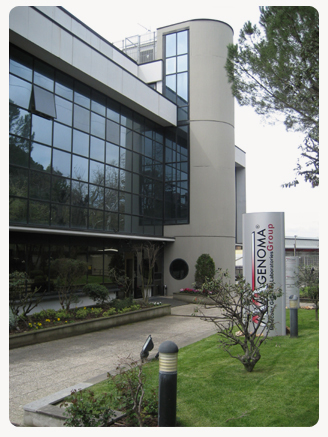 The results we achieved
in the past 20 years
show the growing quality and competencies of our Centre, which aims at diagnostics and service excellence with a strong drive towards scientific research and technological innovation. During these years, the laboratory has expanded its business and grown constantly by creating laboratories and acquiring valuable assets, achieving important results and awards.
The
GENOMA
laboratory was founded in
1997
; the company has become one of the most modern and technologically advanced private molecular diagnostics centres.
The laboratory soon became a reference for more and more professionals in this field and in
1998
GENOMA became an international centre with the start-up of the
pre-implantation genetic diagnosis service (PGD)
, a sophisticated procedure that goes hand in hand with prenatal diagnostic procedures, used only by a few, highly specialised centres in the word, which detects the presence of genetic or chromosome diseases in early phases of the development of embryos, before their implantation in the uterus.
In
1999
, GENOMA specialised in genetic examinations and research focused on
infertility
; the new specialisation enhanced the quality and potential of the Centre, which soon made it the leader in
Reproductive Genetics
.
GENOMA can count on
more than 30 years
of activities and experience in the prenatal diagnosis sector.
In
2010
,
GENOMA acquired Consultorio di Genetica s

rl
, which became the
GENOMA Group
, the diagnostic centre with one of the largest and most in-depth expertise in Europe for prenatal and post-natal cytogenetic examinations and molecular biology.
In
2013
, GENOMA was the first laboratory in Europe to acquire know-how for non-invasive prenatal screening of chromosome aneuploidies through cell-free foetal DNA (cfDNA) analysis from maternal blood, by establishing a partnership with
VERINATA Health
, an ILLUMINA company, for the use of the
SAFeR™ algorithm
. The test, called
PrenatalSAFE®
, was the first cfDNA-based non-invasive prenatal screening test carried out entirely in Italy.
In
2014
, GENOMA created a
Business Centre and a Molecular Biology and Genetics laboratory
in
Milan
. The new
GENOMA Group
laboratories, based in modern, high-tech facilities in the
Affori Centre
, cover more than 1,500 sqm with state-of-the-art tools and technologies and high quality standards. The aim of the new laboratory in Milan is to offer better support to its customers in the Northern part of Italy, thus improving logistics, customer care and genetics consultancy services quality in this territory, especially in Milan and the Lombardy region.