Technological advances in the field of molecular diagnosis mean that we have to continually update our equipment.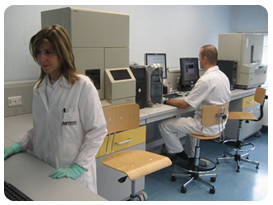 A fundamental element of the organisational model of the
EUROFINS

GENOMA
is represented by
our equipment, the most modern and advanced that is currently availabl
e, constantly updated in line with technological progress and emerging diagnostic requirements.
Cutting-edge technologies and automation, applied to the entire analytical process, contribute to raise the level of quality of our examinations, thus ensuring the greatest reliability in our results.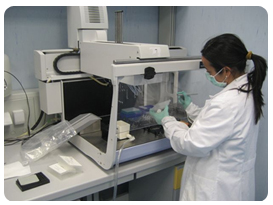 All of this is run by and integrated into a
modern IT system
which forms the connective tissue of all our activities, and which is capable of running the planning and organisation of our work in each section, the printing of reports and statistical analysis, as well as the administrative and accounting side of our operation.
These characteristics have enabled
EUROFINS
GENOMA to become one of the most advanced and highly qualified laboratories in the field molecular diagnostics, a reference center for many international laboratories anf physicians.
Technology Leadership
Now, more than ever, sophisticated laboratory technology is opening new doors in the detection, prevention, and treatment of disease.
EUROFINS
GENOMA is constantly seeking new and innovative diagnostic tools that will assist health care providers with early diagnosis and disease management. Our ultimate goal is better patient care, and
EUROFINS
GENOMA 's active research and development group is dedicated to this pursuit. Our state-of-the-art technology combined with highly trained personnel allows
EUROFINS
GENOMA to meet the needs of virtually every medical specialty.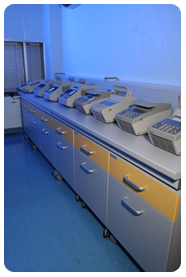 EUROFINS
GENOMA employs the latest methods and technologies to assist your needs.
We are constantly evaluating the latest scientific and technical advances to bring the best of science to your work. This forward thinking approach is supported by a highly skilled and experienced team of scientists and technologists dedicated to providing the most appropriate technologies and services for your needs.
The principal analytical instruments we use as a matter of routine are:
- 16 capillary automatic sequencer ABI PRISM 3100 (3 units)
- 16 capillary automatic sequencer ABI PRISM 310 (4 units)
- Real-time quantitative PCR ABI PRISM 7300 (1 unit)
- PCR ABI PRISM 9700 (10 units)
- PCR ABI PRISM 2700 (3 units)
- PCR ABI PRISM 2400 (2 units)
- Microarray reader ScanArray GX – Perkin-Elmer (1 unit)
- Microarray Spotter Piezorray – Perkin-Elmer (1 unit)
- JANUS Varispan, automatic workstation (3 units)