In the Partnering with Hospitals and Clinics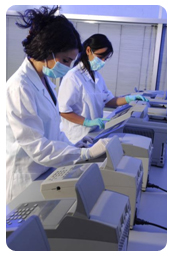 Together, GENOMA and the hospital community can build a strategic relationship to meet the challenges of improving patient care, enhancing laboratory services, and reducing costs. As one of the nation's largest molecular genetics laboratory, with an extensive menu of genetic assays, GENOMA is exceptionally qualified to serve your hospital and its surrounding community.
Our hospital services group offers community-based strategies, innovative relationships, and information systems technology that create seamless delivery systems. In an industry environment of increasing costs and decreasing budgets, a relationship with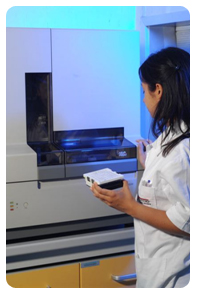 GENOMA will not only enhance your hospital's current services but also establish your hospital laboratory as a community-based low-cost provider. With such extensive capabilities integrated into one source, GENOMA is a hospital's laboratory partner of choice.
Technology Leadership
Now, more than ever, sophisticated laboratory technology is opening new doors in the detection, prevention, and treatment of disease. GENOMA is constantly seeking new and innovative diagnostic tools that will assist health care providers with early diagnosis and disease management.
Our ultimate goal is better patient care, and GENOMA 's active research and development group is dedicated to this pursuit.
Our state-of-the-art technology combined with highly trained personnel allows GENOMA to meet the needs of virtually every medical specialty. This in turn enables your hospital to be among the first to offer new diagnostic assays to your community.