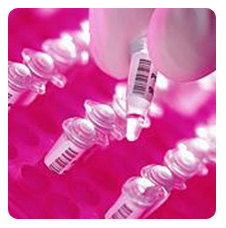 In the highly competitive market of molecular testing, simply complying with standard regulations is not enough. Our goals are to offer superior diagnostic testing and counselling today, to prepare for the future and to regularly exceed the expectations of our clients. Our holistic approach to quality focuses on customer satisfaction, exemplary laboratory and clinical practices and continual improvement processes.
In order to accomplish our goals, we have looked to many regulatory and guidance organizations, including ISO 9001:2000 and ISO17025. As a result, our quality program is comprehensive, precise, relevant and results-driven.
Our ISO 9001:2000 accreditation emphasizes the importance of having the right protocols in place. An independent ISO auditor visits all GENOMA's laboratories every six months to ensure that all established protocols are being followed, and to evaluate and improve the quality of care.
Senior managers throughout our organization champion our quality program. Their commitment, matched daily by the active participation of all our employees, is what makes GENOMA the leader in providing quality molecular diagnostic testing services.
What does ISO accreditation mean for you?
Being ISO certified commits us to ongoing improvement of our service since quality is measured continuously.
This ranges from continuous scrutiny of procedures in the laboratory to developing our own analytical procedures and providing high quality counselling for patients. It also means an ongoing commitment to staff training and development.